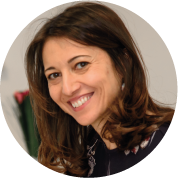 Patrizia Poggiali
Co-founder
Head of Research and Development
Read more
Patrizia Poggiali
We're way more than subcontractors!
That's the first thing I say, with a smile, when I'm asked if we are third-party manufacturers. Then I'll explain: we are partners, and to engage in a project we need to feel it's our project too, with a shared meaning and common objectives. That's how it all started, with our first collaboration with Altromercato, and that's how we were able to continue working in the following years of activity: by building a relationship with our customers and, most importantly, a relationship based on trust. It's a prerequisite and a consequence of the service we offer. We do not just conceive and manufacture a formula, but we also take part in the development of a product range, we offer marketing counseling by sharing new trends, we select the right kind of packaging and pay attention to the materials we use, we highlight the claims that need to be emphasized, and we even get involved in sales force training and in answering consumer queries.
Basically, we put ourselves out there, just like we're doing with this website. And that's because authenticity and transparency are core values, even for… a contract manufacturer like us!
Patrizia is Gala's Technical Director and a founding member. She has a degree in Chemistry and Pharmaceutical Technology (Faculty of Pharmacy) with a specialization in Cosmetology from the University of Bologna. She also holds a degree in Behavioral Sciences and Social Relations (Faculty of Psychology). At Gala, she is responsible for coordinating research and development, technical and legal aspects and relations with new customers.
Lorenzo Zanotti
Co-founder
Head of Budget and Finance
Read more
Lorenzo Zanotti
The joys of being an entrepreneur
There are many ways of doing business: we like the ethical and responsible way. Our Corporate Social Responsibility starts from the awareness that our choices and our business strategies have consequences that go beyond our facilities, they impact the territory where we operate. The legitimacy of a company, as a social institution, depends on its ability to meet the expectations of its customers, employees, suppliers and the local community. This is why we establish lasting relationships with our customers and share values, enthusiasm and successes with them; this is why the people who work with us are our most precious resource, why we take care of their professional growth and ensure an inclusive and peaceful working environment; this is why our suppliers are carefully selected and chosen, with priority given to those who invest in research and respect for the environment; and this is why we partner with associations that are strongly committed to social issues. The consistency and seriousness of our business choices strengthen our reputation and open up new horizon, full of personal satisfaction and success, before the mere economic ones. In doing business, we have made a dream called Gala come true, and we feel that committing ourselves responsibly is a way of returning value to the community that hosts us and to those who choose to collaborate with us, whether they are suppliers, customers or collaborators.
Lorenzo Zanotti is Gala's Administration Manager and a founding member. In addition to coordinating the purchasing department, he is the contact of reference for the Business Ethics Certification. He is currently president of CNA Forlì.
Davide Fiumi
Co-founder
PRODUCTION DIRECTOR
Read more
Davide Fiumi
I made this myself!
I worked in a few professions before I felt this was what I wanted to do: I was a pharmacist first, then a pharmaceutical representative. None of these professions made me feel what I felt the first time after the production of a bulk: seeing the tangible result of my work, there, on the production table, ready to be shipped. The pride of the craftsman in seeing his work completed, after putting passion, commitment and energy into it; the pleasure of seeing an idea physically realized, of receiving the satisfied response of your customers for a product that you truly have 'made with your own hands', step by step, day after day. And after so many years of this adventure, of hard work and achievements, I can still say the most beautiful emotion was one day, overseas, after a long journey, finding myself unexpectedly in front of a shop window and being able to say once again, with pride: "I made this myself"!
Davide is Gala's Production Manager and one of the founding members. He has a degree in Chemistry and Pharmaceutical Technology (Faculty of Pharmacy) from the University of Bologna. He has followed specific courses in production management at SDA Bocconi. In addition to coordinating production, he is responsible for worker safety.
Michela Pessotto
SALES ITALY AND EXPORT MANAGER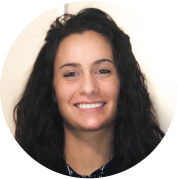 Francesca Nardi
Giulia Laghi
Enrica Laghi
Gloria Nisi
Silvia Fontana
MARKETING AND COMMUNICATION
Arianna Izzi
Giulia Furegato
Marilea Carli
Read more
Marilea Carli
The devil is in the details
For years I have been involved in quality, from raw materials to the finished product, in the company's quality system management and in environmental compliance. And it still fascinates and involves me, like an extremely complex mechanism, but linear in its sections, as it involves every aspect and level of the company, from research and development to production. The hidden fascination of this activity lies in the details: everything must comply, everything must perfectly fit together, from the most exclusive active ingredient to the most common packaging lid. Every bit contributes to determining and guaranteeing a system that must always ensure a high-quality finished product. I could finish here, but my colleagues asked me to write about the profound pleasure I get from spotting a 'non-conformity', an error or something that doesn't fit (as well as 'catching them in the act'!). They say this is the real reason I enjoy my job so much. I'll say it here, and won't deny it…
Marilea Carli is responsible for Quality Control and finished product efficacy assessment. She graduated in Chemistry and Pharmaceutical Technology from the University of Bologna. She has attended numerous refresher courses on microbiological analysis and efficacy assessment, as well as continuing education courses on quality and technical-regulatory aspects. She is Gala's internal inspector for UNI ISO 9001 standards.
Ilenia Peroni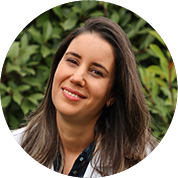 Manel Chourabi
Sandra Foschi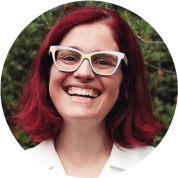 Ilaria Mignani
Read more
Ilaria Mignani
Erupting volcanoes
When Patrizia asked me to write about what research and development mean to me, I had no doubts: working in research is a dream, it's what I've wanted to do ever since I became aware of myself and my future. It's the realization of a goal, stated in a jest, but that I sought and eventually achieved. It is pursuing and supporting knowledge with passion and love, looking at what we have around us with the fascinated eyes of a child and then entering the lab with the tenacity and the desire to achieve something new and different. It is curiosity, and pride, and the desire to tell everyone about the discovery of the day, listening to a project and making it your own, falling in love with it. It is a continuous commitment to learn more every day, and the immense satisfaction of hearing someone tell you: "you know, I really like that cream you made me try, I can't do without it anymore!". It's overcoming limits and conventions and sometimes creating new obstacles, because otherwise it's too easy! A light in the eyes, a rubbing of the hands and a whirlwind in the brain; the anxiety of failure, but also enormous joy in the next success. Research and development at Gala is much more, but in the end it is us: erupting volcanoes in a family that loves us.
Ilaria has a degree in Chemistry and Pharmaceutical Technology from the University of Bologna. She holds a second-level Postgraduate Master's diploma in Cosmetology from the University of Ferrara. At Gala, she researches new raw materials and develops new formulations. She is the contact of reference for organic certification, and attends refresher and continuing education courses. She is currently enrolled in the second-level Postgraduate Master's course in Applied Phytotherapy at the University of Siena.
Serena Berretti
Serena Pazzaglia
Martina Vitali