FULL SERVICE
Full service is our "turnkey" service: from the creation of a product to its promotion, we assist our customers in each phase of development.
Marketing and Research work side by side in synergy to develop innovative, trend-setting products. Production and quality control meet to plan the industrialization phase and define the technical specifications to be monitored for assessing efficacy and safety.
This process involves everyone and leads to the creation of a unique product, that we will be proud to present, supporting our customers during events and promotions.
IDEATION
We develop every project starting from our clients' ideas, paying attention to market trends, competitors and the desired product positioning.
We always strive to offer the most sustainable product and packaging solutions.
DEVELOPMENT
Our formulas are developed with professionalism and confidentiality, using high quality, innovative and effective raw materials.
PRODUCTION
All finished products are manufactured and packed in our facilities, using equipment and technologies specifically conceived and created for the creation of natural and organic cosmetics.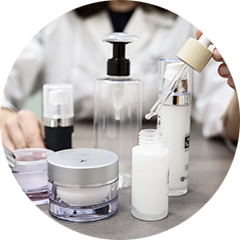 PACKAGING
We help select the best packaging solutions and monitor design development, advising on packaging legal requirements.
CERTIFICATIONS
We carry out efficacy tests and select research institutes when specific certifications are required. We keep constantly updated on new regulations and we are able to issue the required documentation to sell products in Italy and abroad.
PROMOTION
We put our professionalism and experience at your service, to help promote your products during special events such as trade exhibitions, training courses or sales presentations.